I got this TShirt at FOSDEM, I was told that it means something.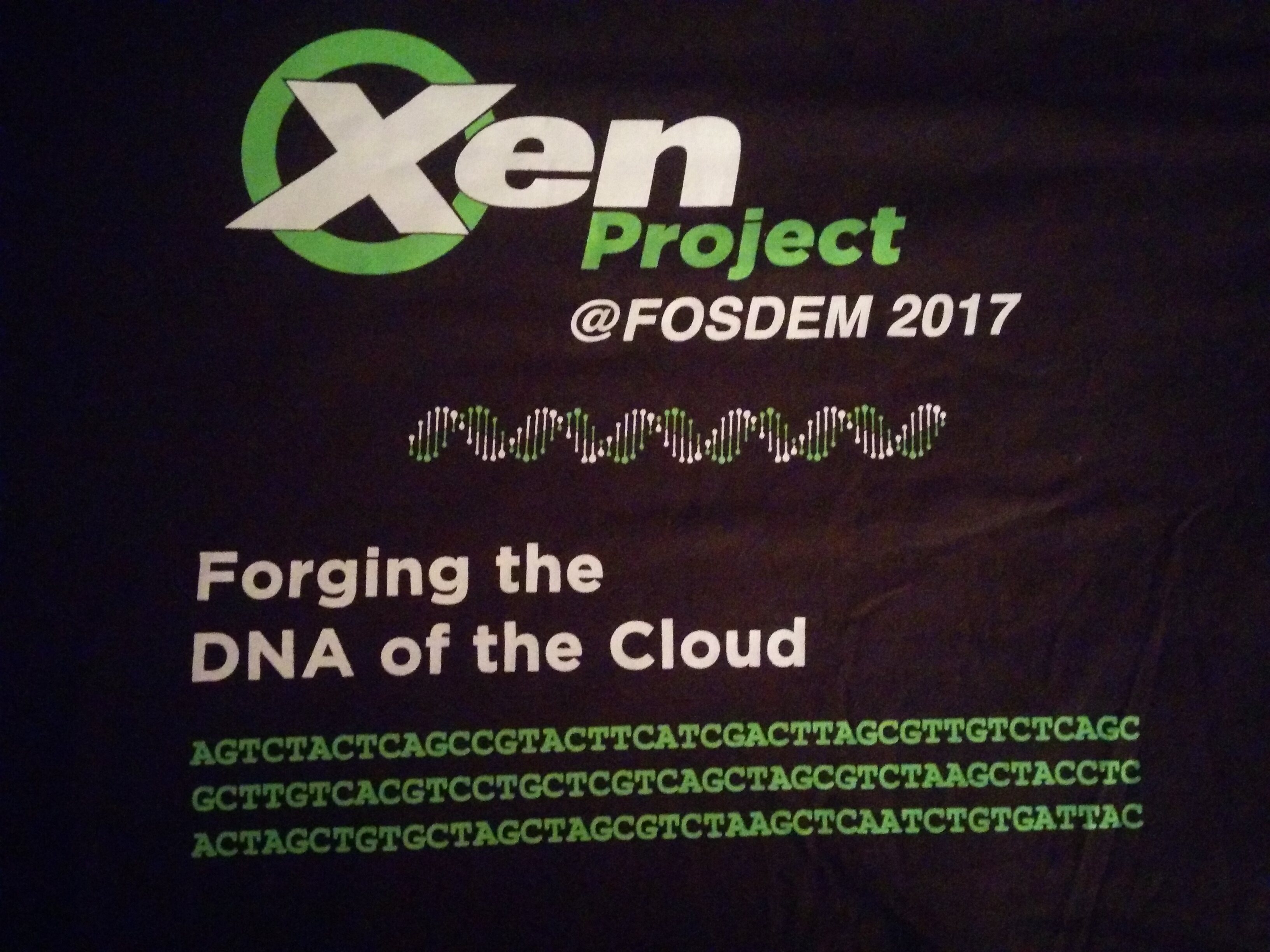 First here is all of the text from the tshirt, which should make the page more discoverable:
Xen 
  Project
  @FOSDEM 2017

Forging the 
DNA of the Cloud

AGTCTACTCAGCCGTACTTCATCGACTTAGCGTTGTCTCAGC
GCTTGTCACGTCCTGCTCGTCAGCTAGCGTCTAAGCTACCTC
ACTAGCTGTGCTAGCTAGCGTCTAAGCTCAATCTGTGATTAC

These three strings are a bit unweildly to work with, lets break them down into groups of three.
AGT CTA CTC AGC CGT ACT TCA TCG ACT TAG CGT TGT CTC AGC
GCT TGT CAC GTC CTG CTC GTC AGC TAG CGT CTA AGC TAC CTC
ACT AGC TGT GCT AGC TAG CGT CTA AGC TCA ATC TGT GAT TAC

Now to wikipedia to get a DNA Codon Table to refer to:
Amino acid     Codons                            Compressed                         
Ala/A        GCT GCC GCA GCG                    GCN                     
Arg/R        CGT CGC CGA CGG AGA AGG            CGN MGR     
Asn/N        AAT AAC                            AAY     
Asp/D        GAT GAC                            GAY        
Cys/C        TGT TGC                            TGY        
Gln/Q        CAA CAG                            CAR        
Glu/E        GAA GAG                            GAR        
Gly/G        GGT GGC GGA GGG                    GGN        
His/H        CAT CAC                            CAY        
Ile/I        ATT ATC ATA                        ATH                            
START        ATG                                    

Amino acid     Codons                             Compressed                        
Leu/L         TTA TTG CTT CTC CTA CTG         YTR CTN
Lys/K         AAA AAG                         AAR
Met/M        ATG
Phe/F        TTT TTC                         TTY
Pro/P        CCT CCC CCA CCG                 CCN
Ser/S        TCT TCC TCA TCG AGT AGC         TCN AGY
Thr/T        ACT ACC ACA ACG                 ACN
Trp/W        TGG
Tyr/Y        TAT TAC                         TAY
Val/V        GTT GTC GTA GTG                 GTN
STOP        TAA TGA TAG                     TAR TRA

I poked at this for ages, I wondered if I had need to the take the codons in as they are written. A column at a time. But even looking at that, there was nothing obvious about the codon sequence.
After a while I started searching for subsequences from the string. This didn't help at all, but one page on google had a related search for ['dna message translator'][3]. Annoyingly I fed in this string:
AGTCTACTCAGCCGTACTTCATCGACTTAGCGTTGTCTCAGCGCTTGTCACGTCCTGCTCGTCAGCTAGCGTCTAAGCTACCTCACTAGCTGTGCTAGCTAGCGTCTAAGCTCAATCTGTGATTAC

And got the result:
XEN HACKATHON FORGING THE DNA OF THE CLOUD


---
Reading: Babylon's Ashes, Cryptonomicon
Aberdeen, Scotland: 1°C, Rain throughout the day.